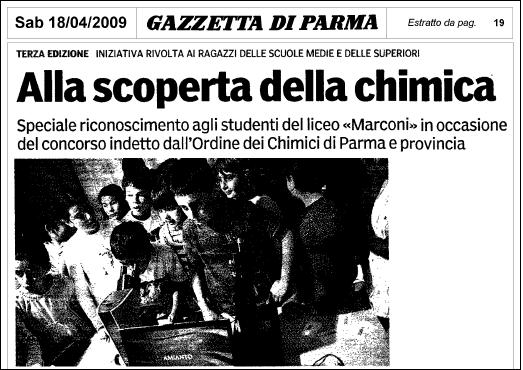 TITLE OF PRODUCT
:
Discovering chemistry
NAME OF AUTHOR(S)
:
Ilaria Graziosi
TYPE OF PRODUCT
:
Article from the local Parma magazine: 'Gazzetta di Parma' (18th april 2009)
LANGUAGE/S OF PRODUCT
:
Italian
DESCRIPTION OF CONTENTS
:
The paper describes the great success of the local event: 'La chimica siamo noi', conceived and organized by the Chemists Association of Parma Province and is in its third edition.
The event has the aim of diffusing and popularizing the knowledge of chemistry in every day life. It is addressed to adults and students,
with a particular focus on middle and high school students.
Different enterprises attend the event as expositors, by involving visitors in enjoying innocuous experiments.


COMMENTS ON THIS DOCUMENT
:
Chemistry appears to be attractive to people when aspects are linked to daily life.
NAME OF COMPILER
:
Dr.Anna Maria Cardinale
NAME OF INSTITUTION
:
Dipartimento di Chimica e Chimica Industriale - University of Genoa