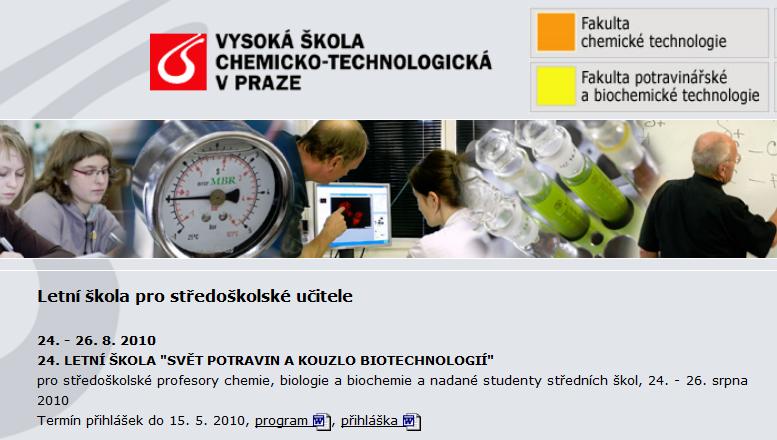 TITLE OF THE INITIATIVE
:
Summer School "The World of Food and the Magic of Biotechnology",
Letní škola "Svět potravin a kouzlo biotechnologií"

REFERENT(S)
:
ICT Prague
Department of Lifelong Learning, Dr. Otmar Skopal
Faculty of Food and Biochemical Technologies

BRIEF DESCRIPTION OF THE INITIATIVE
:
24th summer school of modern chemistry, which takes place every summer since 24 years ago; 3 day workshop for secondary school teachers of chemistry, biology and biochemistry; this year for the first time also for 50 talented secondary school students;
Event within the framework of ICT Prague lifelong learning strategy.

OBJECTIVE OF THE INITIATIVE
:
To promote and support the idea of lifelong learning among the teachers of chemistry and keep them informed about current state of affairs in research; to motivate possible future students of scientific subjects and show them the reality of research and its social impact.
TARGET GROUP OF THE EVENT
:
Secondary school teachers; talented secondary school students
ACTIVITIES CARRIED OUT IN THE FRAMEWORK OF THE EVENT
:
Lectures; experimental work in labs; social and networking events
IMPACT OF THE EVENT
:
National
RESULTS REACHED
:
Every year gathering of approximately 100 teachers whose aim is to bring to their lectures spirit of modern research and to encourage talented and devoted students to continue in their studies of natural science.
EVALUATION OF THE INITIATIVE
:
Very successful multiannual initiative; sought after lifelong learning activity in the field of chemistry carried out by the major education and research player in the field of modern chemistry in the Czech Republic.
NAME OF COMPILER
:
Petra Kinzlova
NAME OF INSTITUTION
:
ICT Prague, Department of Science and Research
ROLE
:
Member of CIAAU Research Team in ICT Prague