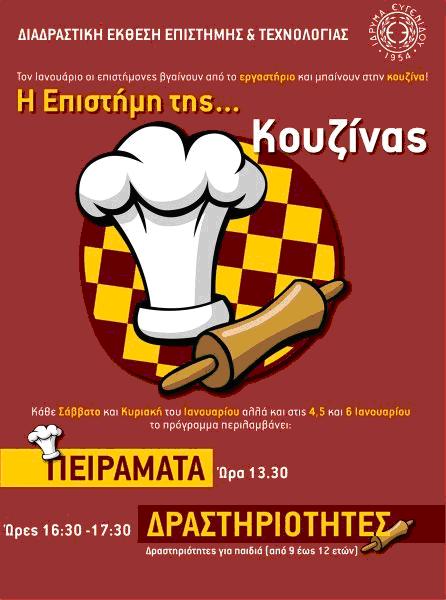 TITLE OF THE INITIATIVE
:
Interactive Exhibition of Science and Technology – Activities

REFERENT(S)
:
Eugenidio Foundation (Ίδρυμα Ευγενίδου) – Non profit organization
BRIEF DESCRIPTION OF THE INITIATIVE
:
The Eugenidio Foundation organizes every month a series of Activities in diferrent thematic areas. The activities (spectacular demonstration experiments and hands-on activities for children and parents) take place in weekends (Saturday and Sunday) of all weeks of each month and in some cases the thematic area is closely related to chemistry. Two such recent events took place in January 2010 (The science of the kitchen) and in November 2009 (The Science of Crime investigation)
OBJECTIVE OF THE INITIATIVE
:
The initiative aims at bringing the world of science closer to the general public.
.

TARGET GROUP OF THE EVENT
:
Children (usually 8-12 years old) and their parents
ACTIVITIES CARRIED OUT IN THE FRAMEWORK OF THE EVENT
:
Demonstration experiments are carried out by young scientists. They are designed to be easy and as spectacular as possible.
In addition, young children (usually older than 8 years old) are performing activities (very simple experiments, small constructions etc) related to the thematic area of the event.

IMPACT OF THE EVENT
:
The event has increasingly large impact among school children
EVALUATION OF THE INITIATIVE
:
The event uses a winner formula for scientific dissemination, however no systematic evaluation of its success is available.

NAME OF COMPILER
:
Dr. Dionysios Koulougliotis

NAME OF INSTITUTION
:
T.E.I. of Ionian Islands

ROLE
:
Associate Professor