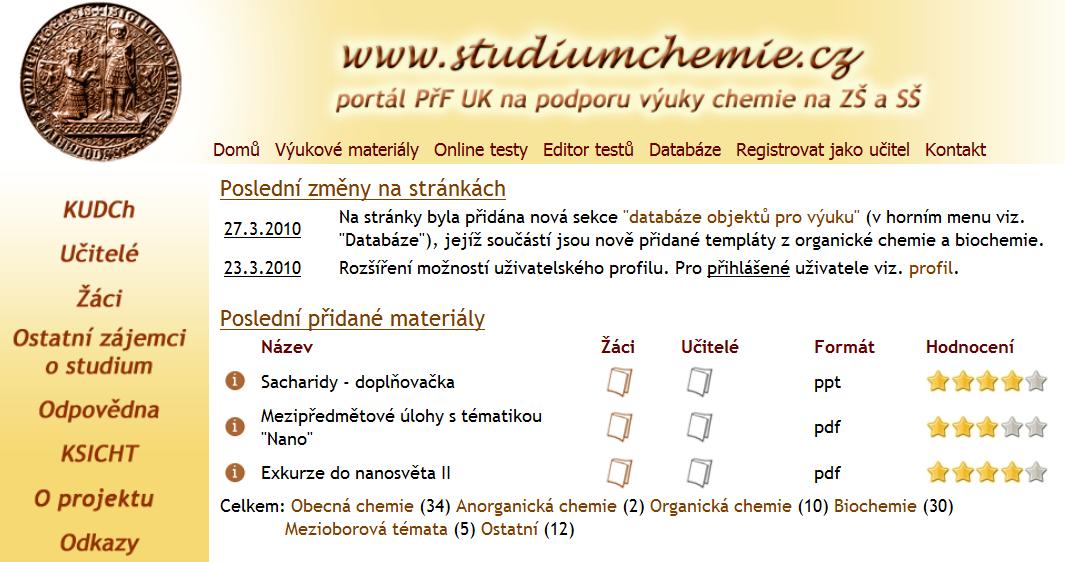 TITLE OF PRODUCT
:
Web portal on chemistry education support on primary and secondary schools
Portál na podporu výuky chemie na ZŠ a SŠ

NAME OF AUTHOR(S)
:
Project creative team:
Petr Šmejkal, David Brenner, Karel Nesměrák, Helena Klímová, Jana Zaspalová and others.
Faculty of Science, Charles University

TYPE OF PRODUCT
:
Web pages
National

LANGUAGE/S OF PRODUCT
:
Czech
DESCRIPTION OF CONTENTS
:
Faculty of Science has a long tradition of cooperation with students and teachers from elementary and secondary schools through courses and seminars. At the same time it produces substantial amount of teaching and other educational materials. But still it is generally perceived that the number of teachers and students addressed by these initiatives is limited. The aim of this project is to make the best of modern communication technologies and create web page with teaching materials and provide secondary schools with support on methodological as well as expert and scientific level.
COMMENTS ON THIS DOCUMENT
:
Webpage offers substantial amount of teaching materials from different fields of chemistry (general chemistry, inorganic chemistry, organic chemistry, biochemistry, interdisciplinary topics) in different types of materials (tests, presentations, working lists, texts, videos, games and quizzes). Important part of the project is to channel this information to the teachers and students and make good PR to the initiative.
NAME OF COMPILER
:
Petra Kinzlova
NAME OF INSTITUTION
:
Department of Science and Research, ICT Prague
ROLE
:
Member of CIAAU Research Team in ICT Prague