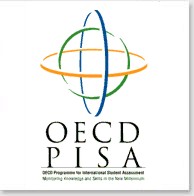 TITLE OF PRODUCT
:
Pisa 2006 results: a first overview

NAME OF AUTHOR(S)
:
Various authors
TYPE OF PRODUCT
:
First report of the OCSE PISA 2006 Project
LANGUAGE/S OF PRODUCT
:
Italian
DESCRIPTION OF CONTENTS
:
The report describes the results of the Programme for International Student Assessment (PISA) 2006, an international assessment performed to evaluate the school performance of 15-year-old students and to identify the features of the school systems of the countries that have obtained the best results. Topics of the assessment carried out in 2006 was scientific literacy. 400000 students from 57 countries took part to the evaluation.
The average score reached by Italian students (475) is lower than the average score of OCSE countries (500) and there is no significant difference between males and females. On the contrary, a significant difference could be observed between scores reached by students from grammar schools (518) and from vocational schools (414), as well as between North-eastern (520) and Southern Italy (448). Finland, Canada, New Zealand and Japan reached the best scores among OCSE countries.

COMMENTS ON THIS DOCUMENT
:
The document is very interesting, as it gives an overview of the school performance of Italian students in comparison with other countries and of the differences existing within Italy.
NAME OF COMPILER
:
Dr.Maria Maddalena Carnasciali
NAME OF INSTITUTION
:
Dipartimento di Chimica e Chimica Industriale - University of Genoa