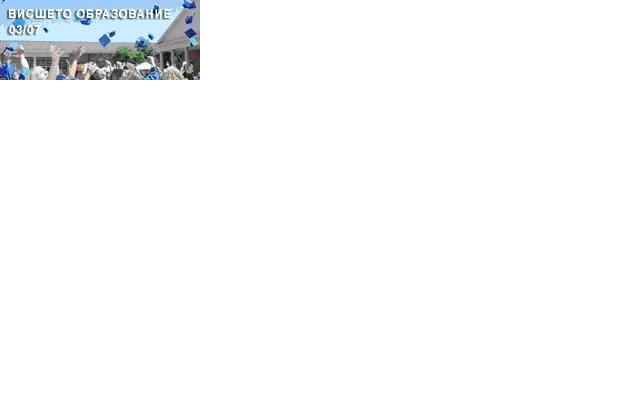 TITLE OF PRODUCT
:
Will Bulgaria remain an " obscure place" for tertiary education?
From: national journal "Politics", N3, 2007

NAME OF AUTHOR(S)
:
Boyan Zahariev
TYPE OF PRODUCT
:
Paper
national journal "Politics",

LANGUAGE/S OF PRODUCT
:
Bulgarian
DESCRIPTION OF CONTENTS
:
The article analyzes the present status of higher education in Bulgaria along with the inherent tendencies and prospects as potential policy making drivers. The author brings forth the following conclusions and findings.
Higher education in Bulgaria is not competitive to the one offered in the US or the EU. It is far behind these competitors in terms of investments , quality indicators and in mid term perspective – in the percentage of degree holders per capita of the general population as compared with the developed countries.
In Bulgaria private costs for educations , according to Eurostat, are higher than the average ones for EU.
By tradition average Bulgarians learn during the days of childhood and youth as far as their strength , perseverance and interest last.
Development of a new learning culture seems to have become a must. This alternative is found in lifelong learning which in turn will make universities offer a much more flexible approach in generating study programs and orientation toward existing economic reality.
Gradually Bulgaria is becoming an integral part of the European higher education sphere. Bulgarian university students are allowed access to a large variety of institutions of higher learning which offer various programs with tuition being carried out in different languages.
Diversity of higher education study programs is a fact caused by the ever enlarging scope of customers' idiosyncratic needs.
On the other hand there is the reverse tendency for unification and standardization of education as a product in order to ensure the compatibility and facilitate the recognition of academic qualification..
These two opposite tendencies suggest the development of reliable systems for quality control that will feature maximum independence from both government and education services providers.

COMMENTS ON THIS DOCUMENT
:
An in-depth analysis of the state of Bulgarian higher education is offered and used as a reference base to identify its fundamental problems and the positive tendencies in its development.
NAME OF COMPILER
:
Milena Koleva
NAME OF INSTITUTION
:
Technical University of Gabrovo