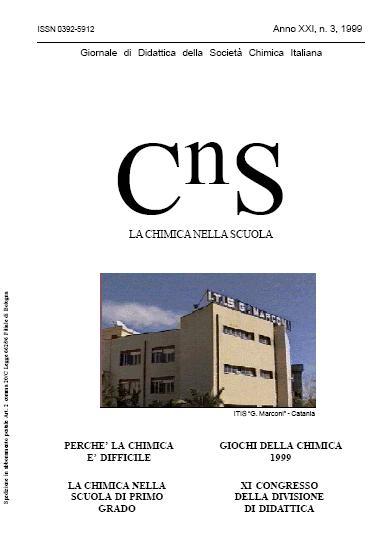 TITLE OF PRODUCT
:
Inclusion of elements of chemistry in the secondary school
NAME OF AUTHOR(S)
:
Pierluigi Riani(University of Pisa)
TYPE OF PRODUCT
:
Paper of the national journal 'La Chimica nella scuola' ('Chemistry in School')
LANGUAGE/S OF PRODUCT
:
Italian
DESCRIPTION OF CONTENTS
:
This paper contains some thoughts which may be useful as a basis for a discussion about the contribution of chemistry to the science education of pupils 11 – 14 years old (junior high school or secondary school). The teaching of chemistry in the secondary schools presents many difficulties, mainly due to 1) the inhomogeneous training of the teachers and to 2) the choice of the elements of chemistry to be taught.Teacher training is not homogeneous because in secondary schools both science and mathematics are taught by the same teacher. Moreover, 'old' teachers, having had outdated training are, at present, mixed with 'young' teachers, coming from the new training schools for secondary teachers (SSIS).Concerning the elements of chemistry presented at the secondary school, they are found too numerous and complex and no care is taken when the very difficult particle model is presented. The author suggests limiting the teaching of chemistry to a small number of fundamental elements, mainly from a macroscopic point of view; the microscopic model should only be introduced in terms of particles, with no distinction between atoms and molecules. Finally it is advisable to highlight the link between the elements of chemistry discussed and everyday life.
COMMENTS ON THIS DOCUMENT
:
The paper is ten years old but it is relevant. At present the same reflections about chemistry at secondary school are the basis of discussion and the suggestions of the author are shared by many researcher in chemistry education.
NAME OF COMPILER
:
Dr.Maria Maddalena Carnasciali
NAME OF INSTITUTION
:
Dipartimento di Chimica e Chimica Industriale - University of Genoa