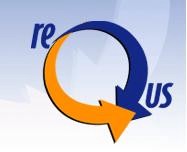 TITLE OF THE INITIATIVE
:
REQUS (Network for School quality)
REFERENT(S)
:
Italian Ministry of Education, University and Research
BRIEF DESCRIPTION OF THE INITIATIVE
:
The Nerwork for School Quality is a portal devoted to quality and experimentation in the italian school. It is an exchange area at the disposal of people concerned with quality in schools. It takes charge of the diffusion of methodologies and tools dealing with "Progetto Qualità" ("Quality Project"), a project started in 1990 from a protocol of agreement signed by the Italian Ministry of Education and Confindustria and aimed to improve the relationships between school, university and employment.
OBJECTIVE OF THE INITIATIVE
:
To promote the development and diffusion of good practices that improve the teaching quality in school; to provide a work area where people involved in education can formulate working hypotheses and test the hypothesized solutions.
TARGET GROUP OF THE EVENT
:
Teachers, students, enterprises
ACTIVITIES CARRIED OUT IN THE FRAMEWORK OF THE EVENT
:
Education paths for primary and secondary schools, and projects dealing with work-related learning have been conceived.
IMPACT OF THE EVENT
:
National
RESULTS REACHED
:
A network has been established among schools on a national basis through the creation of "quality poles" in six cities (Milano, Mantova, Napoli, Padova, Roma, Vicenza).
EVALUATION OF THE INITIATIVE
:
This is very positive and fruitful initiative, as it creates a network between schools participating in the different projects and it promotes the improvement of relations between school, university and job.
WEBSITE OF THE EVENT
:
www.requs.it
NAME OF COMPILER
:
Dr.Maria Maddalena Carnasciali
NAME OF INSTITUTION
:
Dipartimento di Chimica e Chimica Industriale - University of Genoa