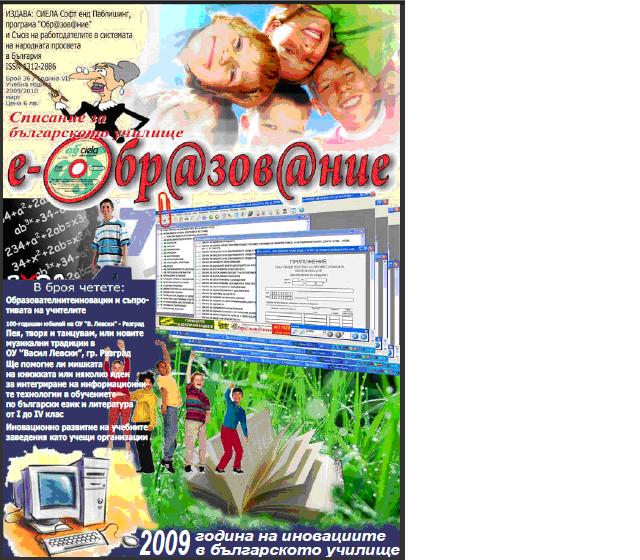 TITLE OF PRODUCT
:
Application of the constructivist approach in training to develop skills and attitudes Lifelong Learning
NAME OF AUTHOR(S)
:
Ilia Emilov
LANGUAGE/S OF PRODUCT
:
Bulgarian
DESCRIPTION OF CONTENTS
:
The purpose of this study was to demonstrate the need
the application of constructivist approach in teaching chemistry to form positive attitudes towards chemistry as a subject studied in school and achieve higher performance and independence, activity and skills that can be used at a later stage for lifelong learning.
Tasks:
1. To explore the fundamental theoretical and methodological aspects and problems constructivism as a modern approach to effective teaching and learning in the context of lifelong learning.
2. To systematize the principal terms and conditions for
successful teaching and learning of chemical matter.
3. To implement an experimental approach based on constructivism
approach to organizing and conducting classes in chemistry with
students from 10 Branch
4. To analyze the results in experimental and control-
s groups and makes key findings and recommendations to the validity and lifelong learning by defining some guidelines for further research on the topic.

COMMENTS ON THIS DOCUMENT
:
Most of the experimental groups of students before their participation in the study were looked at chemistry as a difficult and even uninteresting subject for training; they are not actively involved in training. Constructivist approach has helped to overcome this problem and to develop interest, motivation and active learning, autonomy and skills to serve them and further in the learning process. The results obtained prove the thesis of the author to benefit from the application of constructivist approach in teaching chemistry, and more broadly in school education. Are needed of course and new, large-scale studies on the problem in the broader context of people to learn throughout life.
NAME OF COMPILER
:
Albena Tsoneva
NAME OF INSTITUTION
:
Department of Chemistry and Ecology, Technical University Gabrovo