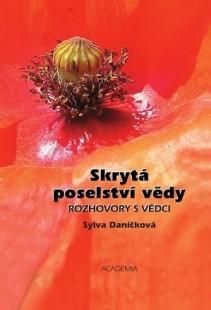 TITLE OF PRODUCT
:
The Hidden Message of Science
Skrytá poselství vědy

NAME OF AUTHOR(S)
:
Sylva Daníčková
TYPE OF PRODUCT
:
Book of interviews, national
LANGUAGE/S OF PRODUCT
:
Czech
DESCRIPTION OF CONTENTS
:
The book consist of interviews with top Czech researchers from the fields of humanities, social science as well as natural science, conducted between 2000 – 2009 and previously published in an Academic Bulletin, which is the monthly magazine of the Academy of Sciences of the Czech Republic.
COMMENTS ON THIS DOCUMENT
:
Very sensitively and well conducted series of interviews with the celebrities of Czech research, the book has a scientific as well as literary and human value. It shows the overlap of science and research with other important parts of society and life of human being.
NAME OF COMPILER
:
Petra Kinzlova
NAME OF INSTITUTION
:
Department of Science and Research, ICT Prague
ROLE
:
Member of CIAAU Research Team in ICT Prague