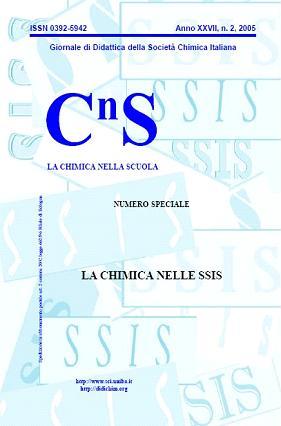 TITLE OF PRODUCT
:
Chemistry in the Graduate Schools for Secondary School teachers
NAME OF AUTHOR(S)
:
Various authors
TYPE OF PRODUCT
:
Special issue of the national journal 'La Chimica nella Scuola' ('Chemistry in the School')
LANGUAGE/S OF PRODUCT
:
Italian
DESCRIPTION OF CONTENTS
:
The issue is a collection of papers dealing with chemistry in the SSIS schools (Graduate Schools for Secondary School Teachers). SSIS schools have been established by a ministerial decree published in 1998. Their activity started in the 2000/2001 academic year and their function was the training of secondary school teachers; before this time Italy did not demand any other qualification at teachers than graduation.
The training of the future teachers depends on Universities that make use of the experience of senior secondary school teachers together with the competence of professors.
The papers collected are relations, thoughts, suggestions and proposals reported by a few professors of chemistry teaching at SSiS schools.
The evaluation of SSIS schools is positive but the following aspects should be improved:
- the cooperation between schools and Universities involved in SSIS organizations should be deeper;
- professors involved in courses for SSIS schools should be dedicated to research in education;
- the scientific knowledge of future teachers should be verified more deeply during the final examination.

COMMENTS ON THIS DOCUMENT
:
Recently a reform about the new organization of SSIS schools blocked the start of the last SSIS cycle, the ninth SSIS cycle.
So many people are waiting to attend the new courses and it will be a real mistake if the Ministry of Public Education decides to suppress these schools.


NAME OF COMPILER
:
Dr.Marina Alloisio
NAME OF INSTITUTION
:
Dipartimento di Chimica e Chimica Industriale - University of Genoa