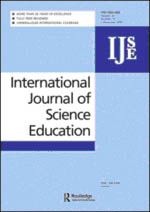 TITLE OF PRODUCT
:
Students' Views and Attitudes Towards the Communication Code Used in Press Articles about Science
NAME OF AUTHOR(S)
:
Halkia, Krystallia; Mantzouridis, Dimitris
(Department of Primary Education, University of Athens, Greece)

TYPE OF PRODUCT
:
Publication in the international Journal "International Journal of Science Education"

LANGUAGE/S OF PRODUCT
:
English

DESCRIPTION OF CONTENTS
:
This study has explored the reaction of secondary school students to the communication code (narrative and emotional language with a lot of metaphors and analogies) used in science articles by the press. These articles deal with different aspects of science and reflect different communication strategies. The results of the research reveal that secondary school students view the communication codes used in press science articles as being more interesting and comprehensible than those of their science textbooks. Predominantly, they do not select science articles that present their data in a scientific way (diagrams and abstract graphs). On the contrary, they do select science articles and passages in them, which use an emotional/"poetic" language with a lot of metaphors and analogies to introduce complex science concepts. It also seems that the narrative elements found in popularized science articles attract students' interest and motivate them towards further reading.
COMMENTS ON THIS DOCUMENT
:
The role of non-formal science sources in enhancing students' interest and curiosity in scientific subjects is crucial, because the development of an appreciation for science and a curiosity about it, is an essential part of becoming a "lifelong learner" of science.

WEBSITE OF THE PRODUCT
:
www.informaworld.com/index/727287691.pdf

NAME OF COMPILER
:
Dr. Katerina Salta

NAME OF INSTITUTION
:
T.E.I of Ionian Islands