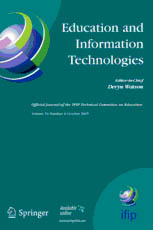 TITLE OF PRODUCT
:
Design and Development of a Multimedia Educational Tool for Interactive Visualization and Three-Dimensional Perception of Vibrational Spectra Data of Molecules
NAME OF AUTHOR(S)
:
Nickolas D. Charistos, Vasilios I. Teberekidis, Constantinos A. Tsipis and Michael P. Sigalas
(Department of Chemistry, Aristotle University of Thessaloniki)

TYPE OF PRODUCT
:
Publication in the international Journal "Education and Information Technologies"
LANGUAGE/S OF PRODUCT
:
English
DESCRIPTION OF CONTENTS
:
In this paper the design and development of 3DNormalModes, an educational tool for interactive visualization and three dimensional perception of vibrational spectra data of molecules is presented. The details of the architecture of the tool and its functionality are described. Means of application in chemical education at university level are discussed. A pilot study summarizes the strengths, the educational value and the possible extensions of the system.


COMMENTS ON THIS DOCUMENT
:
Communication and Information Technology (ICT) in chemistry education provides effective tools in enhancing the educational result and promote lifelong learning. The educational tool described in this document helps students overcome their difficulties concerning the various molecular structural features
NAME OF COMPILER
:
Dr. Katerina Salta


NAME OF INSTITUTION
:
T.E.I of Ionian Islands