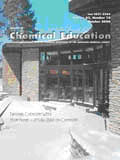 TITLE OF PRODUCT
:
The Chemistry of Art and the Art of Chemistry
NAME OF AUTHOR(S)
:
C. Kafetzopoulos
(Greek Pedagogical Institute)
N. Spyrellis
(Faculty of Chemical Engineering, National Technical University of Athens)
A. Lymperopoulou-Karaliota
(Department of Chemistry, National and Kapodistrian University of Athens)

TYPE OF PRODUCT
:
Publication in the international journal "Journal of Chemical Education"
LANGUAGE/S OF PRODUCT
:
English
DESCRIPTION OF CONTENTS
:
This paper describes the development of an interdisciplinary teaching approach-a project- based on discovery. By this approach students learn about chemical changes through the products of chemical reactions and their applications in art. Art is used to make learning chemistry interesting and effective.
The project was applied to an ordinary classroom. The students prepared coloured products as a result of simple chemical reactions of qualitative analysis and observed the properties of these coloured substances. They could use these coloured substances to create simple watercolour paintings. The objective was for the students to investigate the connection between chemistry and art and realize the production of new materials as a contribution of chemistry to society.
The results of the project application shows that: students
• Students became familiar with some simple laboratory activities, such as the preparation of insoluble salts
• Students realized the relationship between chemistry and art
• Students appreciate the contribution of chemistry to art and could mention chemical products, such as colours and solvents, that are essential for the purposes of art

COMMENTS ON THIS DOCUMENT
:
Students approach "the art of chemistry" through chemistry demonstrations in the classroom and understand "the chemistry of art" by preparing colors for painting via chemical reactions. This teaching approach creates a learning environment which leads to a positive attitude towards chemistry and laboratory activities and as a result reduces "chemophobia".
The paper also contains remarkable suggestions for teachers of secondary school.

NAME OF COMPILER
:
Dr. Katerina Salta


NAME OF INSTITUTION
:
T.E.I of Ionian Islands