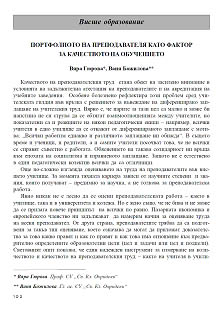 TITLE OF PRODUCT
:
The portfolio of the teacher factor in the quality of education
NAME OF AUTHOR(S)
:
Viara Gyrova Vania Bojilova
Sofia University

TYPE OF PRODUCT
:
A report discussing the possibilities of introducing a portfolio of the teacher as a factor for the quality of its teaching.
LANGUAGE/S OF PRODUCT
:
Bulgarian
DESCRIPTION OF CONTENTS
:
Consideration of the need to find an adequate way to assess the teaching staff, such as the quality of education.
Such a portfolio is to be a reference base in assessing teacher's competence. A model structure and contents of a portfolio have been demonstrated.

Using the portfolio as evidence of competence of teaching brings new opportunities for assessing the quality of teaching in terms of continuing lifelong learning.

COMMENTS ON THIS DOCUMENT
:
The activity of developing and maintaining a teacher's portfolio leads to a permanent quality of academic performance
NAME OF COMPILER
:
Angel Anchev
NAME OF INSTITUTION
:
Department of Chemistry and Ecology