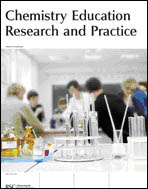 TITLE OF PRODUCT
:
Students' Errors In Solving Numerical Chemical-Equilibrium Problems
NAME OF AUTHOR(S)
:
Margarita Kousathana, Georgios Tsaparlis
(Department of Chemistry, University of Ioannina)

TYPE OF PRODUCT
:
Publication in the international journal 'Chemistry Education: Research and Practice in Europe'

LANGUAGE/S OF PRODUCT
:
English
DESCRIPTION OF CONTENTS
:
Chemical-equilibrium problems are among the most important and at the same time most complex and difficult general-chemistry problems. In this paper, errors made by the students, while solving such problems, are discussed. These errors are of two kinds: (i) 'random' errors caused by hastiness, or by thoughtlessness, or by an overload of working memory, or by field dependence or a combination of the above factors. (ii) 'systematic' errors that are caused by misconception(s) or by a difficulty in understanding of the underlying theory, concepts, or processes. Students' errors that were detected were categorized into five categories: (1) the equilibrium constant; (2) stoichiometry; (3) heterogeneous equilibria; (4) the direction of a reaction which is not at equilibrium (the disturbance of the chemical equilibrium); (5) gas equilibria and the ideal-gas law.
COMMENTS ON THIS DOCUMENT
:
Research in Chemistry education is able to produce a remarkable improvement in the method of teaching chemistry, focusing on the identification of limits in human brain and on obstacles that oppose to an effective learning.Research in Chemistry education is able to produce a remarkable improvement in the method of teaching chemistry, focusing on the identification of limits in human brain and on obstacles that oppose to an effective learning.
The paper also contains remarkable suggestions for teachers of secondary school



NAME OF COMPILER
:
Dr. Katerina Salta

NAME OF INSTITUTION
:
T.E.I of Ionian Islands