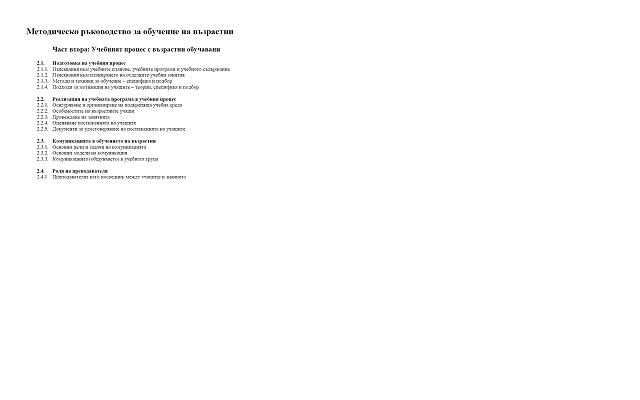 TITLE OF PRODUCT
:
Adults education Guide (part 1 and 2)
NAME OF AUTHOR(S)
:
A working group under the PHARE 2003 BG 2003/004-937.05.03 "Vocational qualification" EuropeAid/120163/D/SV/BG, November' 2006.
Liubov Popova, Viara Giurova et all.

TYPE OF PRODUCT
:
Book (.pdf – format ) in 2 parts.
National.

LANGUAGE/S OF PRODUCT
:
bulgarian
DESCRIPTION OF CONTENTS
:
The book describes the main steps and relevant activities of adults educational process. First part is dedicated to: regulations concerning academic organization of training, investigative inquiry into the need of training ; selection of forms of training, selection of trainees and tutors; financial management ; efficiency evaluation;
The second one focuses on the preparation of curriculum (contents, methods and techniques of training, motivation, implementation of curricular ( provision of classroom environment, conducting classes, assessment of progress) , techniques and approaches for communication with learners, teacher's role in the educational process ( mediator for settlement of critical situations etc.)

COMMENTS ON THIS DOCUMENT
:
This guide is targeted to a specific educational activity as a part of the LLL – concept: the education of adults. It very useful for managers and trainers in organizing and management of adults training courses, especially in adult motivation and assessment of the final results.
NAME OF COMPILER
:
Milena Koleva
NAME OF INSTITUTION
:
Department of chemistry and ecology, Technical university of Gabrovo