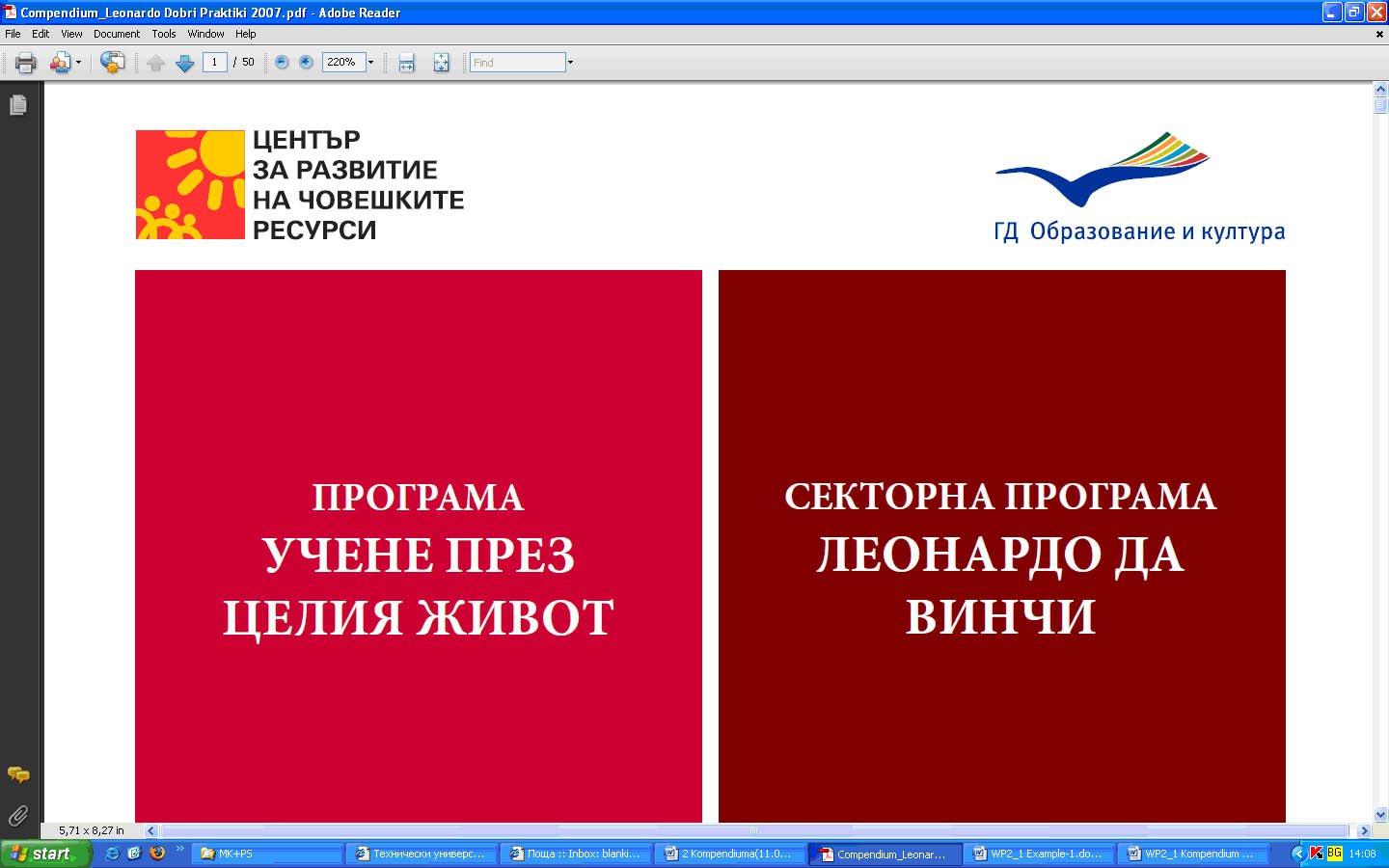 TITLE OF PRODUCT
:
Lifelong Learning programme- LDV programme

NAME OF AUTHOR(S)
:
Human Resources Development Center
TYPE OF PRODUCT
:
National Compendium "Best practices"
LANGUAGE/S OF PRODUCT
:
Bulgarian
DESCRIPTION OF CONTENTS
:
This document describes projects, implemented under sector program LEONARDO DA VINCI during 2009. 21 projects have been effected mainly with the participation of the secondary schools in Bulgaria (18 projects), high schools (2 projects), re¬se¬arch institutes (1 project), besides 21 Bulgarian organizations which have been coordinators of the pro¬jects 32 European and 7 Bulgarian organizations have taken part as partners. The projects are three types: mobility (19 projects), pilot project (1 project), and language competences (1 project).
In the project "CLASSSICAL AND ALTERNATIVE SOURCES OF ENERGY" one of the main aims is to acquire the European technological achievements and to apply them in the vocational education. The participants in the project , involved in learning special subjects in the field of energy ,have had the practical opportunity to work with a device which produces energy through sun collectors and windmill installations, comparative protocols have been drafted for the differences and similarities between the energy parameters of one and the same type of classical hydrogen atom power stations - AETZ "Kozludui" and AETZ" Bjuje".

COMMENTS ON THIS DOCUMENT
:
This document provides information about Lifelong Learning activities in Bulgaria and could be a good source of useful contacts for other projects participants.
WEBSITE OF THE PRODUCT
:
www.hrdc.bg
NAME OF COMPILER
:
Pencho Stoychev
NAME OF INSTITUTION
:
Department of Chemistry and Ecology, Technical University of Gabrovo
ROLE
:
associated professor