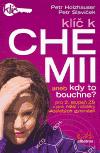 TITLE OF PRODUCT
:
The Key to the Chemistry (When does it blow up?)
Klíč k chemii (aneb Kdy to bouchne?)

NAME OF AUTHOR(S)
:
Petr Holzhauser, Petr Slavíček
TYPE OF PRODUCT
:
Textbook; national
LANGUAGE/S OF PRODUCT
:
Czech
DESCRIPTION OF CONTENTS
:
Textbook for upper elementary school students introducedto the student in a new innovative and amusing way.
COMMENTS ON THIS DOCUMENT
:
The book tries to be a special and different kind of a textbook that offers to its readers a fresh view on the chemistry and chemistry teaching. It shows to the students and teachers the most tricky parts of chemistry teaching (and studying) and presents simple clues for experiments, interesting trips to the history and examples of chemistry in our daily lives.
NAME OF COMPILER
:
Petra Kinzlova
NAME OF INSTITUTION
:
Department of Science and Research, ICT Prague
ROLE
:
Member of CIAAU Research Team in ICT Prague