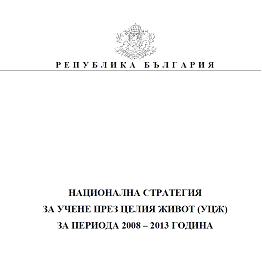 TITLE OF THE INITIATIVE
:
National Strategy for Lifelong Learning (lll)
period 2008 – 2013.

REFERENT(S)
:
Ministry of education, youth and science
BRIEF DESCRIPTION OF THE INITIATIVE
:
The National Strategy includes a conceptual framework for lifelong learning;
Lifelong learning in different stages of personal development; Priority directions of lifelong learning;
Indicators for measuring progress related to Lifelong learning.

OBJECTIVE OF THE INITIATIVE
:
The aim of the strategy is to create conditions for all citizens in Bulgaria to develop their personal and professional knowledge, skills and capabilities, improve their own welfare and the competitiveness of national economy through:
• increasing the adaptability of each person to economic and social changes;
• encouraging participation in all forms of lifelong learning for professional and personal development.

TARGET GROUP OF THE EVENT
:
Learners, students, postgraduate students, employed, unemployed, elderly before and after retirement, training institutions, government bodies, ministries and agencies, employers and employers' organizations, trade unions, school boards, district administ
ACTIVITIES CARRIED OUT IN THE FRAMEWORK OF THE EVENT
:
Seminars over the all country
IMPACT OF THE EVENT
:
It is a national strategy, according to European legislation.
RESULTS REACHED
:
Established the basis for creating a comprehensive system of Longlife learning.

NAME OF COMPILER
:
Albena Tsoneva Tsoneva

NAME OF INSTITUTION
:
Department of Chemistry and Ecology, Technical University of Gabrovo