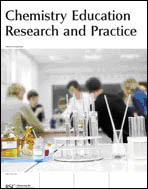 TITLE OF PRODUCT
:
Chemistry Teaching in Lower Secondary School with Methods Based on: A) Psychological Theories; B) The Macro, Representational, and Submicro Levels of Chemistry
NAME OF AUTHOR(S)
:
Anastasia Georgiadou, Georgios Tsaparlis
(Department of Chemistry, University of Ioannina)

TYPE OF PRODUCT
:
Publication in the international journal 'Chemistry Education: Research and Practice in Europe'

LANGUAGE/S OF PRODUCT
:
English

DESCRIPTION OF CONTENTS
:
In this study, two teaching methods aiming at improving the learning of highly abstract and complex content of chemistry in lower secondary school have been examined. One is a method based on developmental psychology and the other is a "three-cycle" method based on the distinction of school chemistry into macroscopic, submicroscopic and representational levels. The macro cycle did not include chemical notation, as well as the concepts of molecules and atoms. The representational cycle covered the same course material by adding chemical formulae and equations. The submicro cycle introduced atomic and molecular structure, and stoichiometry. The experimental groups scored higher at tests, mainly on the theoretical questions, but the largest positive effect was shown to be induced by the three-cycle method.
COMMENTS ON THIS DOCUMENT
:
Research in chemistry education is able to produce a remarkable improvement in learning chemistry, focusing on teaching methods enriched with features based on psychological theory.
The paper also contains remarkable suggestions for teachers of secondary school.

NAME OF COMPILER
:
Dr. Katerina Salta

NAME OF INSTITUTION
:
T.E.I of Ionian Islands