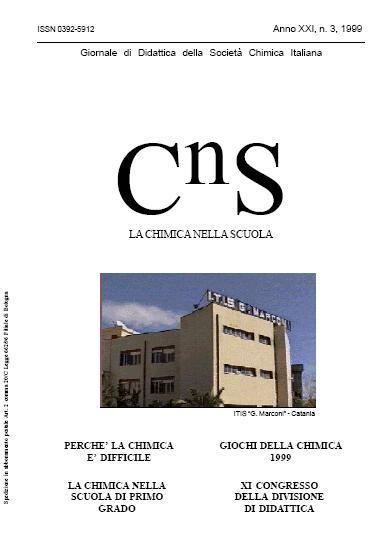 TITLE OF PRODUCT
:
Spectacular chemistry. An unusual teaching approach for chemistry at school.
NAME OF AUTHOR(S)
:
Mauro Berretti (ITIS 'B.Pascal' Roma)
Michele Debegnach (ITIS 'E.Fermi' Roma)
TYPE OF PRODUCT
:
Paper of the national journal 'La Chimica nella scuola' ('Chemistry in the school')
LANGUAGE/S OF PRODUCT
:
Italian
DESCRIPTION OF CONTENTS
:
During the VIII scientific cultural week an exhibition has been performed in which a new teaching path, moving from spectacular aspects of chemical laboratory reactions, has been verified. Spectacular aspects spontaneously occur in natural processes and scientific phenomena involve observators and artists as well, each reacting in personal and different ways to the same suggestions. The paper focused on these particular moments from which interesting cultural hints may grow, experimenting didactic specific objectives of a general Chemistry Course. Experimental work has been conducted by about 400 students from classes of two high schools in Rome, with aid from Computer Science and Chemistry teachers. A multimedial hypertext has been prepared which contains the whole work in an organic way and stimulating theoretical arrangement which has been proved to be useful also for people not participating to this Project. Experimental work has been presented by students during the exibition in a "show" to which 1,500 upper and middle school students actively participated.
COMMENTS ON THIS DOCUMENT
:
The success of the exibition that uses spectacular aspects of chemistry as way to attract interest and curiosity of people suggests to adopt the same espediente to make chemistry more attractive for students. The insertion of spectacular experiences in the chemistry teaching path could be a winning choice.
NAME OF COMPILER
:
Dr.Maria Maddalena Carnasciali
NAME OF INSTITUTION
:
Dipartimento di Chimica e Chimica Industriale - University of Genoa