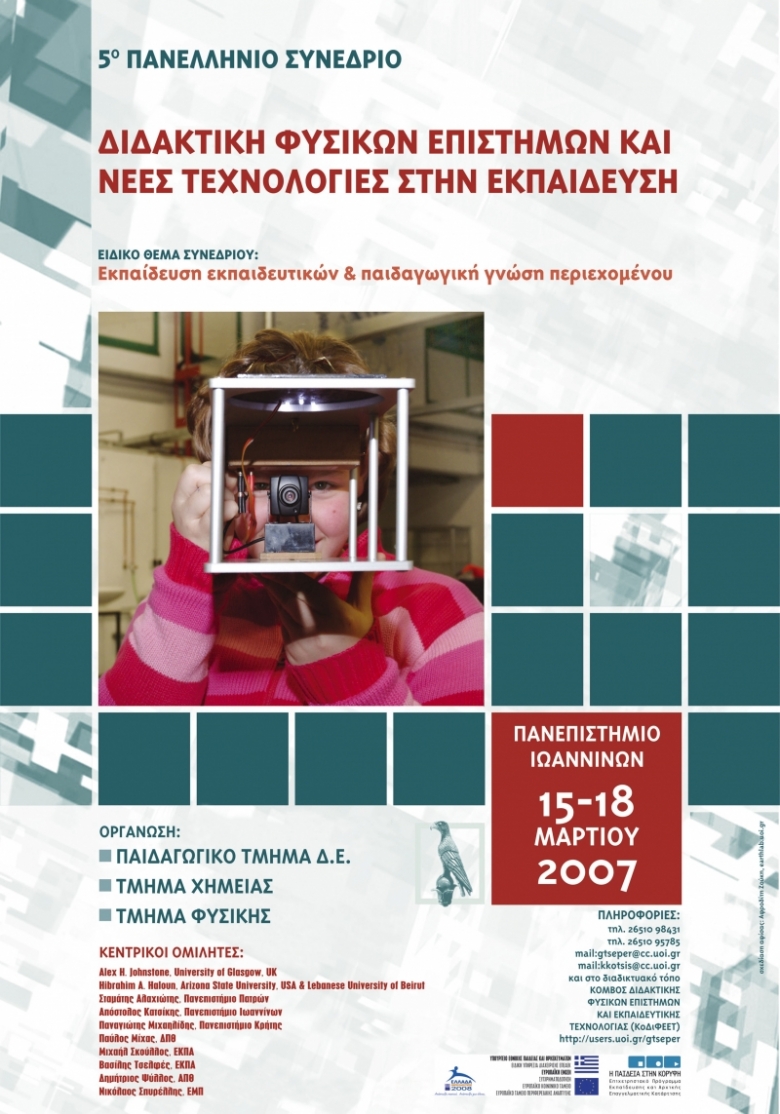 TITLE OF PRODUCT
:
Multimedia Application used for teaching "Mixture Separation" to 2nd Grade lower secondary school pupils

NAME OF AUTHOR(S)
:
Georgios Korakakis, Evangelia Pavlatou, Ioannis Palyvos, Nikolaos Spyrellis
(National Technical University of Athens-Department of Chemical Engineering)
TYPE OF PRODUCT
:
Paper in National Conference Proceedings

LANGUAGE/S OF PRODUCT
:
Greek

DESCRIPTION OF CONTENTS
:
The authors of this paper present a multimedia application used for teaching the section "Mixture separation methods" to 2nd Grade Lower secondary school pupils. The application was developed by taking into account the principles of cognitive load theory (CLT) as proposed by Mayer & Moreno (Educational Psychologist 38, 43-52, (2003)). Other factors that affect the successful use of a multimedia application include the pupils' previous knowledge and spatial ability as well as the choice of colours. The application was produced in three different forms: the first included only text, static picture and narration, the second included animation, while the third included interactive 3d animation. The software (all 3 different forms) was tested to 212 students in order to check the degree at which each one of four elements (static picture, sound, animation, interactive 3d animation) attracts student's attention and thus influences the educational result.
When using interactive 3d animation both the time spent at each scene and the amount of scenes watched by each pupils was much larger (statistically important difference) relative to the other two forms of the software.
The use of modern technology accompanied by respect to the pedagogical principles can significantly enhance students' interest towards chemistry.

COMMENTS ON THIS DOCUMENT
:
The document points out the importance of use of modern technology in order to stimulate the interest of the chemically illiterate towards chemistry. The educational software should be designed so that it is attractive and at the same time achieve the educational aim.
NAME OF COMPILER
:
Gekos Mihalis

NAME OF INSTITUTION
:
T.E.I of Ionian Islands