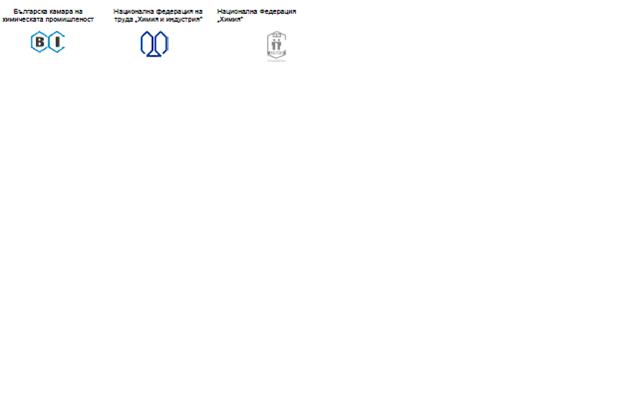 TITLE OF THE INITIATIVE
:
Agreement for cooperation between the social partners in the chemical industry
REFERENT(S)
:
Bulgarian Chamber of Chemical Industry
National Federation of Labor Chemistry and Industry
National Federation Chemistry
BRIEF DESCRIPTION OF THE INITIATIVE
:
Ongoing cooperation between manufacturers, unions and workers in the chemical industry in Bulgaria. Emphasis on long-term measures for training and qualification of workers in the sector. LLL is possible to achieve the objectives of such cooperation.
OBJECTIVE OF THE INITIATIVE
:
Participants in the agreement expressed their willingness to work in the following areas:
Improving the image of chemical industry;
Investments in human resources;
Vocational education and training of personnel in the chemical industry.
Competitiveness;
Social cooperation.


TARGET GROUP OF THE EVENT
:
Working in enterprises of chemical industry of Bulgaria.
ACTIVITIES CARRIED OUT IN THE FRAMEWORK OF THE EVENT
:
I. Ensuring a qualified staff with the needs of the industry was discussed in two workshops
II. Preparation and implementation of new system for management of chemicals "REACH"
- Exchange of information and inclusion in training seminars for employees in the sector
- Providing guidelines for implementation of regulatory requirements under REACH for information and training of employees in the chemical industry handling chemicals
III. Responsible Care Health, Safety and Environment
IV. Creation of two vocational training centers - Devnya and Stara Zagora

IMPACT OF THE EVENT
:
Building relationships and conducting training at national level Chemistry sector.
RESULTS REACHED
:
Achieving uniform methods of training of employees in chemical industry laying emphasis on the continuing lifelong learning. There are links between employers and employees with the participation of trade unions.
EVALUATION OF THE INITIATIVE
:
Co-operation Agreement was made between employers, trade unions and workers, which governs the general problems of Chemical industry. It sets the ground for better training of employees in the industry. It is environmentally sensitive and introduces the best practices in training, health and safety.
NAME OF COMPILER
:
Angel Anchev
NAME OF INSTITUTION
:
Technical University Gabrovo