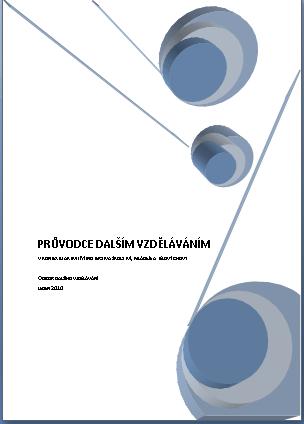 TITLE OF PRODUCT
:
Guidebook to the Further Education
Průvodce dalším vzděláváním

NAME OF AUTHOR(S)
:
Ministry of Education, Youth and Sports
TYPE OF PRODUCT
:
Publication of the MEYS, national level
LANGUAGE/S OF PRODUCT
:
Czech
DESCRIPTION OF CONTENTS
:
The aim of the publication is to present activities within the context of LLL carried out in official activities of the responsible Ministry. It is divided into chapters (general overview of the concept of LLL, activities of the MEYS, evaluation of the current state of affairs in LLL and measures for implementation of the particular goals, including short annotations of the projects).
COMMENTS ON THIS DOCUMENT
:
The publication represents a contribution of the Ministry to the current creation of the system of LLL and its establishment in the education system of the CR. It recognizes growing importance of LLL that has become a popular topic of these days, gradually supported by the political, professional as well as general public.
NAME OF COMPILER
:
Petra Kinzlova
NAME OF INSTITUTION
:
Department of Science and Research, ICT Prague
ROLE
:
Member of CIAAU Research Team in ICT Prague