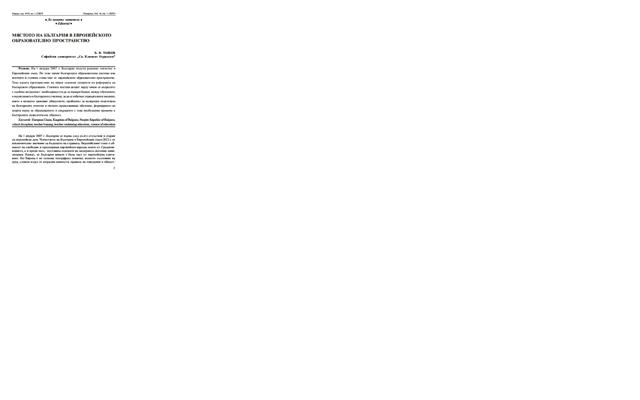 TITLE OF PRODUCT
:
Bulgarian Education in the European Educational Area
From: Chemistry, vol. 16, issue 1, (2007) pp 1-3

NAME OF AUTHOR(S)
:
Borislav V. Toshev
TYPE OF PRODUCT
:
Paper, national journal Chemistry
LANGUAGE/S OF PRODUCT
:
Bulgarian
DESCRIPTION OF CONTENTS
:
On January, 1st, 2007 Bulgaria became a regular member of the European Union. Thus Bulgaria's educational system became a part of the European educational area. The article emphasizes on some special problems that have not been solved yet: i) the need of balance between the processes of learning and breeding within the Bulgarian school; without this balance the socialization of youth as a fundamental educational goal can not be achieved; ii) the problem of the modern training of the prospective teachers and as well as the problem of their continuing education; iii) the need of structural and conceptual changes in the Bulgarian pedagogical academia after establishing the Science of Education by a process of amalgamation of the separate pedagogical disciplines (pedagogy, didactics, educational psychology, philosophy of education, etc.).
NAME OF COMPILER
:
Milena Koleva
NAME OF INSTITUTION
:
Department of Chemistry and Ecology, Technical University of Gabrovo