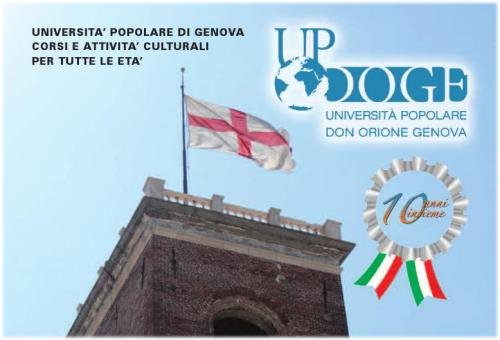 TITLE OF PRODUCT
:
UPDOGE – Don Orione Popular University of Genoa
NAME OF AUTHOR(S)
:
Not available
TYPE OF PRODUCT
:
Brochure of the Don Orione Popular University of Genoa for the academic year 2009/2010
LANGUAGE/S OF PRODUCT
:
Italian
DESCRIPTION OF CONTENTS
:
The paper is the brochure of UPDOGE, the Popular University of Genoa. The structure, the organization and the courses of UPDOGE are described in detail. The University was born in 1999 as no-profit cultural association and its activity is in the field of life long learning. Every year courses, conferences, seminars and activities about different subjects and disciplines are proposed to people of every age with the aim of increasing and enriching their knowledge.The UPDOGE University is structured into Departments:
- Department of Languages
- Department of Creativity
- Department of Informatics
- Department of History and Philosophy
- Social and Psychological Department
- Department of sciences
- Musical and theatrical Department
- Department of sports
- Department for Young People
Focusing the attention on the Department of Science, courses about practical and attractive subjects, concerning aspects of everyday life, are listed. A few examples are the course on the Alzheimer disease, the course on essences and perfumes, the course on Bach flowers, the course on scientific investigation and so on.
COMMENTS ON THIS DOCUMENT
:
The scientific courses carried out at the Popular University of Genoa suggest that people are not interested in the theoretical aspects of sciences but are attracted to the practical aspects of the latter, especially if they are connected with everyday life.
NAME OF COMPILER
:
Dr. Marina Alloisio
NAME OF INSTITUTION
:
Dipartimento di Chimica e Chimica Industriale - University of Genoa