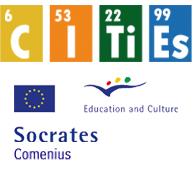 TITLE OF PRODUCT
:
New approaches to applied chemistry in education,CITIES
Report of the Czech partner in the project CITIES

NAME OF AUTHOR(S)
:
Hana Bohmova, Dana Piskova, Eva Stratilova, Eva Sulcova, Charles University, Faculty of Sciences, Prague, CZ
TYPE OF PRODUCT
:
Report of the Czech partner of the project CITIES, that is a COMENIUS project (129193-CP-1-2006-1-DE– COMENIUS–C21) planned in 2006 and running from 01.10.2006 until 30.12.2009
International

LANGUAGE/S OF PRODUCT
:
Mentioned report is in Czech, the whole project is in English
DESCRIPTION OF CONTENTS
:
In many European countries, there is an urgent need to interest more young people in studying chemistry. Key factors influencing their choice are their secondary school teachers. The COMENIUS project CITIES will produce four teacher training modules which will help teachers to make their chemistry lessons more appealing to students by placing the subject in the context of their daily lives. Besides basic information on European aspects of the chemical industry and chemistry teaching, CITIES will offer course material with "hands on" experiments and a homepage that presents people and products, linking everyday benefits, the making of products and their chemical background in an interactive way.

Thus, the CITIES partnership is developing this homepage for the use of teachers and their students.
CITIES provides three types of material:
• a fully fledged in-service teacher training course
• training material which can be used/adapted by teachers for use in their own schools
• background information, factual materials and links

COMMENTS ON THIS DOCUMENT
:
This report presents some interesting experience from practical laboratory courses for the further education of researchers. The courses are mainly focused on chemistry experiments developed by German project partners and by Czech partners from FNS CU in Prague.
The project has very similar objectives as our project CIAAU.

NAME OF COMPILER
:
Anna Mittnerova
NAME OF INSTITUTION
:
Department of Science and Research, ICT Prague
ROLE
:
Member of CIAAU Research Team in ICT Prague