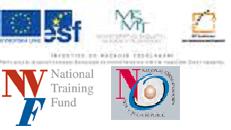 TITLE OF PRODUCT
:
Survey of the Employers´ Requirements for Graduates of Technical and Natural Science Subjects
Průzkum požadavků zaměstnavatelů na absolventy technických a přírodovědeckých oborů

NAME OF AUTHOR(S)
:
National Training Fund
National Observatory of Employment and Training
TYPE OF PRODUCT
:
Survey, national level
LANGUAGE/S OF PRODUCT
:
Czech
DESCRIPTION OF CONTENTS
:
The main goal of the study is to look at the further education from the employers´ perspective, to find out required structure of knowledge and competencies expected from science subject graduates, as well as perspectives for graduates that employers can offer on the field of professional growth and financial growth of the individual.
COMMENTS ON THIS DOCUMENT
:
Because the outcomes of many surveys show that one of the main motivation for further education of people is their position at the labor market, we assume that this perspective is very useful one. Outcomes of this research show that the level of education is the crucial one, together with the ability and willingness of graduates to continue in LLL process. Education institutions are criticized that their teaching methods are not connected with the practical aspects of subjects; the participation of the professionals from the field would be welcomed. The study presents many other interesting outcomes and recommendations.
NAME OF COMPILER
:
Petra Kinzlova
NAME OF INSTITUTION
:
Department of Science and Research, ICT Prague
ROLE
:
Member of CIAAU Research Team in ICT Prague