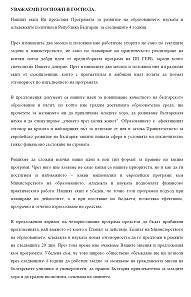 TITLE OF THE INITIATIVE
:
Program for Development of Education, Science and
youth policies in Bulgaria for the next 4 years

REFERENT(S)
:
Jordanka Fandykova
Minister of Education, Youth and Sports

BRIEF DESCRIPTION OF THE INITIATIVE
:
Achieving high quality of education.
Ensuring equal access to education and opening up of the education system.
Development of appropriate conditions for implementation of the educational concept "LIFELONG LEARNING".
Incentives for young people in the development and implementation of sector policies.
Conversion of Bulgaria into a Country in which knowledge and innovation are the drivers of economy.


OBJECTIVE OF THE INITIATIVE
:
Lifelong learning not only helps to maintain high competitiveness and prospective employment opportunities, but it is the best way to combat social exclusion.
Educational concept "Lifelong Learning" (or continuing education) opens opportunities for a person to present a dynamic and meaningful life, personal and career prospects.


TARGET GROUP OF THE EVENT
:
Children and young people in Bulgaria, institutions in Bulgaria

IMPACT OF THE EVENT
:
National Program
RESULTS REACHED
:
Not Absent
NAME OF COMPILER
:
Albena Tsoneva Tsoneva


NAME OF INSTITUTION
:
Department of Chemistry and Ecology, Technical University of Gabrovo