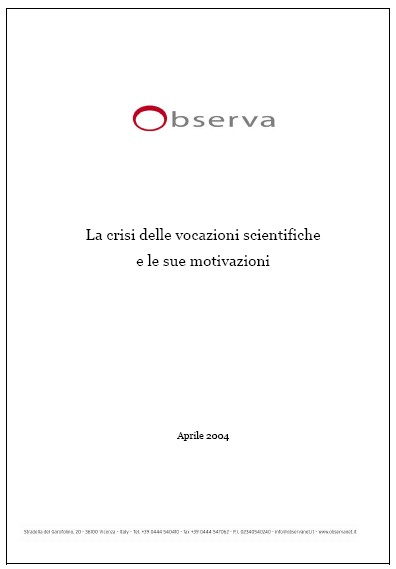 TITLE OF PRODUCT
:
The scientific vocation crisis and its explanation
NAME OF AUTHOR(S)
:
Massimiliano Bucchi (University of Trento)
Federico Neresini (University of Padova)
TYPE OF PRODUCT
:
Paper published by " Observa - Scienza e Società", by order of the Italian National Conference of the Deans of Scientific Faculties. April 2004
LANGUAGE/S OF PRODUCT
:
Italian
DESCRIPTION OF CONTENTS
:
This work provides an overview of studies and data related to the so called "scientific vocation crisis" in Italy, sometimes comparing the Italian situation with Europe. The authors investigated the following points:
- Evaluation of the decreasing trend in the number of students, related to: historical trend, gender, knowledge background and work expectations.
- Analysis of work experiences after graduation.
- The undergraduate students perception of science in general.
Some tests are presented in order to analyze the points listed above. Different aspects of the question are studied. The main aspects considered are: school and opinions of students , media and science, the relationships between the university and the outside world.
COMMENTS ON THIS DOCUMENT
:
The critical evaluation of the data and the information collected can be used to better understand the problem and to plan strategies to solve it.
NAME OF COMPILER
:
Dr.Anna Maria Cardinale
NAME OF INSTITUTION
:
Dipartimento di Chimica e Chimica Industriale - University of Genoa