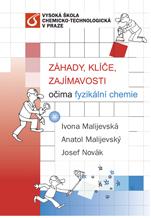 TITLE OF PRODUCT
:
Mysteries, Keys and Curiosities Through the Eyes of the Physical Chemistry
Záhady, klíče, zajímavosti očima fyzikální chemie

NAME OF AUTHOR(S)
:
Ivona Malijevská
Anatol Malijevský
Josef Novák

TYPE OF PRODUCT
:
Book, national
LANGUAGE/S OF PRODUCT
:
Czech
DESCRIPTION OF CONTENTS
:
Contemporary physical chemistry can explain many situations and features we meet every day and can give a reasonable explanations to them. Therefore, the goal of this book is to popularize this part of chemistry.
COMMENTS ON THIS DOCUMENT
:
The book talks about a physical chemistry in rather popular way, it is not a textbook and it wasn´t supposed to be. It also includes variety of examples and real life situation, where the individual can meet the effects of physical chemistry in his or her daily lives. The authors of the book are internationally recognized experts in their field of research.
NAME OF COMPILER
:
Petra Kinzlova
NAME OF INSTITUTION
:
Department of Science and Research, ICT Prague
ROLE
:
Member of CIAAU Research Team in ICT Prague