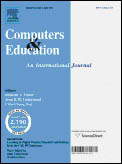 TITLE OF PRODUCT
:
Multimedia application with animated cartoons for teaching science in elementary education
NAME OF AUTHOR(S)
:
K. Dalacosta, J.A. Palyvos, N. Spyrellis
(School of Chemical Engineering, National Technical University of Athens)
M. Kamariotaki-Paparrigopoulou
(Department of Chemistry, University of Athens)

TYPE OF PRODUCT
:
Publication in the international journal 'Computers and Education'

LANGUAGE/S OF PRODUCT
:
English

DESCRIPTION OF CONTENTS
:
This study reports research findings on the use of animated cartoons in a multimedia application meant to evaluate their effectiveness in supporting teaching and learning in science. The researchers have developed a cartoon-style multimedia application whereas animated cartoons where designed from scratch using appropriate programs. The study was carried out in various elementary schools of Athens, Greece. The research results provide evidence that the use of animated cartoons significantly increases the young students' knowledge and understanding of specific science concepts, which are normally difficult to comprehend and often cause misconceptions to them
COMMENTS ON THIS DOCUMENT
:
Communication and Information Technology (ICT) in chemistry education is able to produce a remarkable improvement in the method of teaching chemistry, focusing on the relations between specific subjects of chemistry with real life experiences, situations and phenomena.
NAME OF COMPILER
:
Dr. Katerina Salta

NAME OF INSTITUTION
:
T.E.I of Ionian Islands