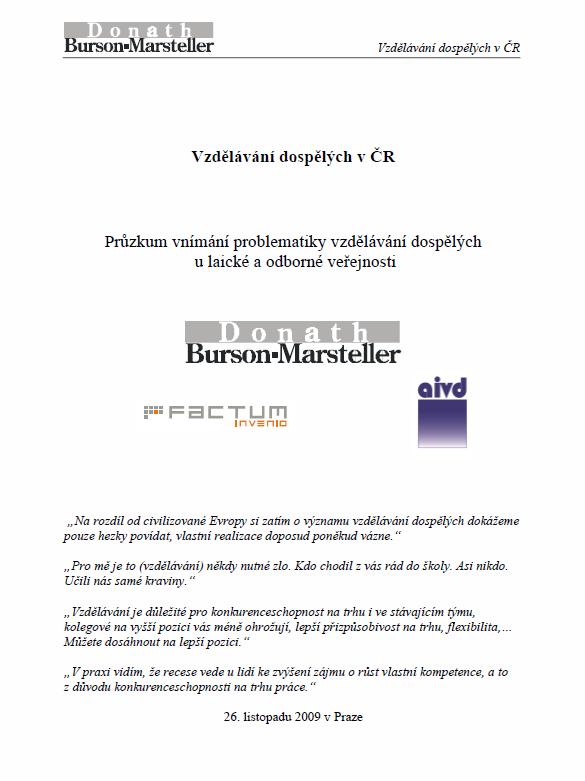 TITLE OF PRODUCT
:
Education of Adults in the Czech Republic, Survey on adults education issues among laics and professionals
Vzdělávání dospsělých v ČR, Průzkkum problematiky vzdělávní dospělých u laické a odborné veřejnosti
NAME OF AUTHOR(S)
:
Donath-Burson-Marsteller

Asociace institucí vzdělávání dospělých ČR (Association of institutions of adult education in the CR)

Factum Invenio

TYPE OF PRODUCT
:
Study of the problematics of adult education, September – October 2009
LANGUAGE/S OF PRODUCT
:
Czech
DESCRIPTION OF CONTENTS
:
Main aim of the study is to describe topical problems, trends and opportunities in the area of adult education within the context of LLL in the CR.
COMMENTS ON THIS DOCUMENT
:
The outcomes of the research shows that both the professionals and general public do recognize the importance of adult education; professionals feel that there is a lack of state support to the system of LLL and that the system is less effective than in other countries. The offer of courses is quite broad, however the quality of courses is often uncertain and the offer is sometimes too confused. The biggest importance is usually felt in the area of information and communication technologies and foreign languages. The main motivation for further education is usually the fear of losing the job.
NAME OF COMPILER
:
Petra Kinzlova
NAME OF INSTITUTION
:
Department of Science and Research, ICT Prague
ROLE
:
Member of CIAAU Research Team in ICT Prague