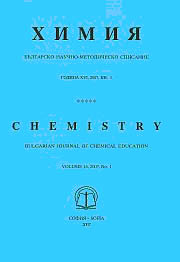 TITLE OF PRODUCT
:
About the Quality of Chemistry and Environment Education, A Student's Personality Oriented Education
NAME OF AUTHOR(S)
:
L. Boyanova
TYPE OF PRODUCT
:
Paper, national journal "Chemistry"
LANGUAGE/S OF PRODUCT
:
Bulgarian
DESCRIPTION OF CONTENTS
:
An important goal for Bulgarian school education is to provide a
good quality studies at secondary school. Some low level achievements of 15-
year old students found by international examinations are mentioned here. Certain factors determining the quality of education in chemistry are discussed. The importance of the teaching subject and teachers' role to provide a good students' cognition and their position, the active part they take in the process are mentioned,together with teacher – student and student – student relations. The issue connected with school – family relations is considered in terms of educational quality betterment. Some issues bound to school discipline and setting up a system to measure students' achievements more effectively are also considered.

COMMENTS ON THIS DOCUMENT
:
The most important conclusions are:
• Optimization of regulations and especially the curriculum, with accent on natural studies, the same concerning the syllabus and the new standards of educational subjects;
• purposeful policy towards teachers' qualification concerning both knowledge and methods of teaching;
• creation of special educational background that can encourage the development of students' characters –

NAME OF COMPILER
:
Milena Koleva
NAME OF INSTITUTION
:
Department of Chemistry and Ecology, Technical University of Gabrovo