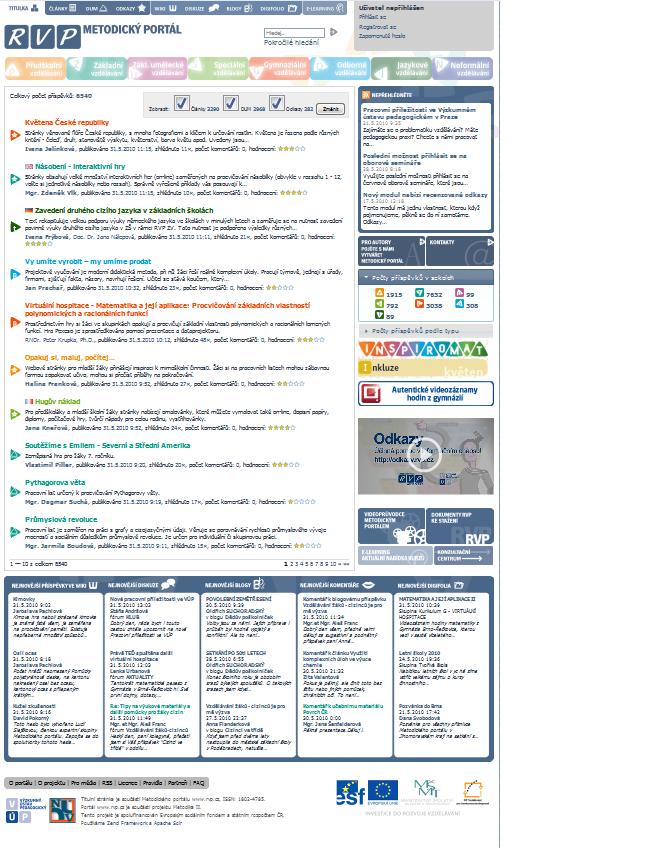 TITLE OF THE INITIATIVE
:
RVP (Framework Educational Pogrammes) Methodical Portal
RVP (Rámcové Vzdělávací Programy) Metodický portál

REFERENT(S)
:
Czech Pedagogic Research Institute in Prague
National Institution of Technical and Vocational Education (NUOV)
Financed by Ministry of Education Youth and Sports of the CR and ESF Oprational programme Education for competitivness.

BRIEF DESCRIPTION OF THE INITIATIVE
:
Wide internet methodical portal RVP (Framework Education Programmes) Portal is divided under particular sections devoted to the various educational fields and focused on particular target groups. Under the section "Virtualni hospitace", live discussions and video records from the various lessons can be shared.
The portal was launched and is managed under the projects running since 1.1.2009 till the 31.12.2011.

OBJECTIVE OF THE INITIATIVE
:
Main objective is to enhance the quality of the learning process on all stages of education.
• Effective exploitation of various learning forms and methods.
• Mutual sharing of experience and practice
• Lifelong learning of the teachers

TARGET GROUP OF THE EVENT
:
Portal is focused on the preschool, elementary, upper secondary schools students, adult learners and pupils with special educational needs and on their teachers.
ACTIVITIES CARRIED OUT IN THE FRAMEWORK OF THE EVENT
:
Wide virtual meeting of specialists, teachers and students, who can contribute to the improvement of the education systems by exploitation of information and communication technologies in schools and lifelong learning process.
IMPACT OF THE EVENT
:
The portal is accessible free of charge to wide public and the new methodical approaches to the teaching of particular subjects can be used by teachers and their pupils.
RESULTS REACHED
:
New information and communication technologies by the means of enjoyable way enhance interest of pupils to learn more on specific subjects.
EVALUATION OF THE INITIATIVE
:
It is very useful initiative that is appreciated above all by young generation
NAME OF COMPILER
:
Anna Mittnerova
NAME OF INSTITUTION
:
Department of Science and Research, ICT Prague
ROLE
:
Member of CIAAU Research Team in ICT Prague