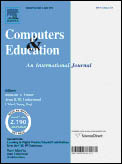 TITLE OF PRODUCT
:
3D visualization types in multimedia applications for science learning: A case study for 8th grade students in Greece
NAME OF AUTHOR(S)
:
G. Korakakis, E.A. Pavlatou, J.A. Palyvos, N. Spyrellis
(Laboratory of General Chemistry, School of Chemical Engineering, National Technical University of Athens)
TYPE OF PRODUCT
:
Publication in the international journal 'Computers and Education'

LANGUAGE/S OF PRODUCT
:
English
DESCRIPTION OF CONTENTS
:
This study aims to determine whether the use of specific types of visualization (3D illustration, 3D animation, and interactive 3D animation) combined with narration and text, contributes to the learning process of 13- and 14- years-old students in science courses. Three different versions of an interactive multimedia application called ''Methods of separation of mixtures", each one differing from the other two in a type of visuals are used. The results indicate that multimedia applications with interactive 3D animation and 3D animation do increase the interest of students and render the material more appealing. The findings also suggest that the most obvious and essential benefit of static visuals (3D illustrations) is that they leave to the students the time control for learning and decrease the cognitive load.
COMMENTS ON THIS DOCUMENT
:
Communication and Information Technology (ICT) in chemistry education is able to produce a remarkable improvement in the method of teaching chemistry, focusing on students' understanding, visualizing and exploring various chemical phenomena.
NAME OF COMPILER
:
Dr. Katerina Salta

NAME OF INSTITUTION
:
T.E.I of Ionian Islands