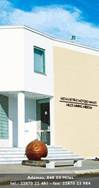 TITLE OF THE INITIATIVE
:
Educational Programs and Publications of Milos Mining Museum
REFERENT(S)
:
Milos Mining Museum – Adamas,Milos
BRIEF DESCRIPTION OF THE INITIATIVE
:
The Mining Museum of Milos organizes annually a series of educational programs and activities aiming at increasing public awareness of the presence and use of minerals in every day life. Depending on their success some activities may go on for more than a year. Two of these activities that are related to mineral chemistry are the following: i) "All Around Us: Minerals embrace our lives"- an educational board game available in Greek and English and ii) Minerals in our lives. Industrial minerals-our world is made of them. This is an instructional and entertaining activity.
OBJECTIVE OF THE INITIATIVE
:
This initiative constitutes a type of informal education aiming at showing that minerals as chemical substances are all around us and consequently at popularizing scientific knowledge related to chemistry. Besides its informative character such initiatives tend to create a positive attitude towards scientific knowledge and cultivate the ability for inquiry about the physical world.
TARGET GROUP OF THE EVENT
:
Pupils of 5 – 17 years old, parents and the general public.
ACTIVITIES CARRIED OUT IN THE FRAMEWORK OF THE EVENT
:
Board games, instructional and entertaining activities
IMPACT OF THE EVENT
:
The events have mainly regional impact (Cyclades island) however its impact becomes national and international during the summer months during the tourist season. The educational programs are bilingual (Greek and English) and this enhances the impact of the initiative.
RESULTS REACHED
:
Hundreds of students from all islands of the Cyclades attend the educational programs each year.
EVALUATION OF THE INITIATIVE
:
This initiative is a form of non-formal education which affects largely the attitudes of the general public towards science and chemistry in particular. The fact that it is bilingual adds to its value.
NAME OF COMPILER
:
Gekos Mihalis



NAME OF INSTITUTION
:
T.E.I. of Ionian Islands