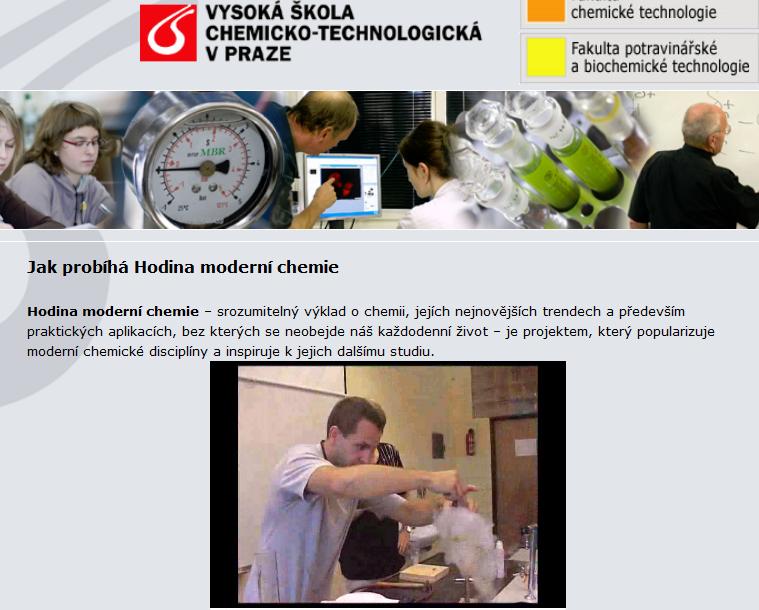 TITLE OF THE INITIATIVE
:
Lessons of Modern Chemistry,
Hodina moderní chemie
REFERENT(S)
:
ICT Prague, Department of External and Internal Communication
www.vscht.cz

BRIEF DESCRIPTION OF THE INITIATIVE
:
Lesson of modern chemistry is organized by students and researchers from ICT Prague in secondary schools across the Czech Republic. Lessons are interactive, based on dialogue between participants, full of experiments.
OBJECTIVE OF THE INITIATIVE
:
To bring chemistry to students, make it more popular, present newest trends in modern chemistry and practical applications of chemistry in our everyday lives
TARGET GROUP OF THE EVENT
:
Elementary and secondary school students and chemistry teachers
ACTIVITIES CARRIED OUT IN THE FRAMEWORK OF THE EVENT
:
Practical lesson of modern chemistry, accompanied with live experiments, projections and printed handouts
IMPACT OF THE EVENT
:
National
RESULTS REACHED
:
Increasing number of schools and teachers interested in presenting chemistry in modern and innovative way.
EVALUATION OF THE INITIATIVE
:
Positive responses from students and teachers; good base for further networking between secondary school teachers, talented and in science interested students with ICT Prague that serve as a good base for cooperation i.e. in CIAAU project.
NAME OF COMPILER
:
Petra Kinzlova
NAME OF INSTITUTION
:
ICT Prague, Department of Science and Research
ROLE
:
Member of CIAAU Research Team in ICT Prague