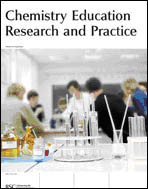 TITLE OF PRODUCT
:
Analogies in Chemistry Teaching as a Means of Attainment of Cognitive and Affective Objectives: A Longitudinal Study in a Naturalistic Setting, Using Analogies with a Strong Social Content
NAME OF AUTHOR(S)
:
Panagiotis Sarantopoulos, Georgios Tsaparlis
(Department of Chemistry, University of Ioannina)

TYPE OF PRODUCT
:
Publication in the international journal 'Chemistry Education: Research and Practice'

LANGUAGE/S OF PRODUCT
:
English

DESCRIPTION OF CONTENTS
:
This study examines the use of chemical analogies and their effect on cognitive and affective factors of 10th and 11th grade Greek students. Attention was paid to the structural correspondence between the analogue and the target. Regarding the analogue domain, emphasis was placed on using analogies with a strong and familiar social context. The results provide evidence for the possible usefulness of the long-term use of analogies in the teaching of chemistry. Analogies can be more effective for students with lower cognitive development. In addition, the study showed a positive affective effect to most students.
Finally, recommendations for the proper and effective use of analogies in chemistry teaching are made.

COMMENTS ON THIS DOCUMENT
:
Research in chemistry education is able to produce a remarkable enhancement of chemical literacy and public trust in chemistry, focusing on the connection of chemistry to student experience.
The paper contains remarkable suggestions for the proper and effective use of analogies in chemistry teaching

NAME OF COMPILER
:
Dr. Katerina Salta

NAME OF INSTITUTION
:
T.E.I of Ionian Islands