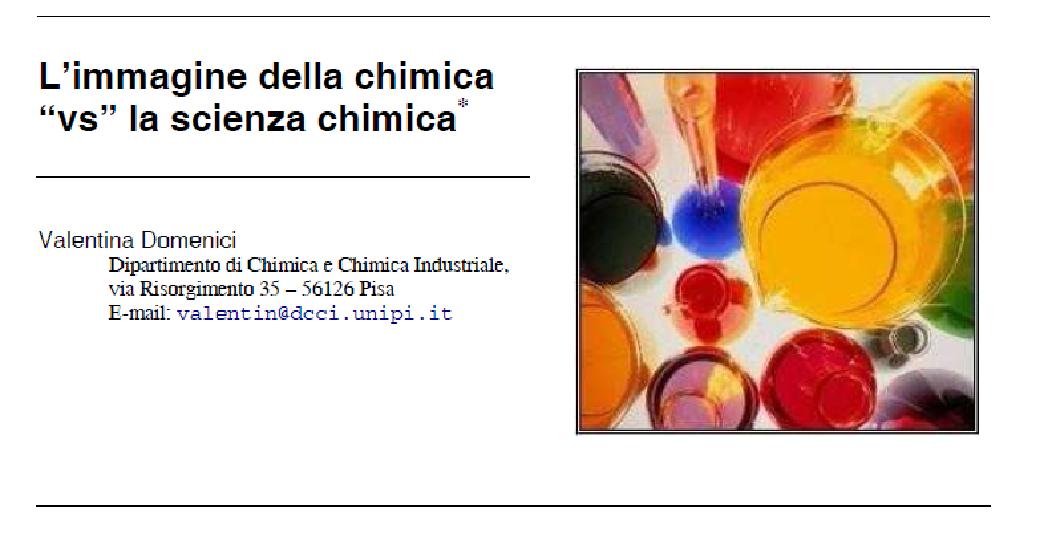 TITLE OF PRODUCT
:
The image of chemistry 'vs' the chemistry science
NAME OF AUTHOR(S)
:
Valentina Domenici
(University of Pisa)


TYPE OF PRODUCT
:
On-line article of the site 'Ulisse'
LANGUAGE/S OF PRODUCT
:
Italian
DESCRIPTION OF CONTENTS
:
The author stat considers that people have a poor opinion of chemistry, because they link it to the most negative elements of society: pollution, drugs and arms. She tries to explain the motivation of this unpopularity through a historical analysis, since in the nineteenth century chemistry was very popular and was included in entertaining knowledge. The image of chemistry changed at the end of the nineteenth century when this science became more specialized and progressively less accessible. In the twentieth century the symbiosis between chemistry and industry and a few tragedies, as Seveso and Bhopal, caused a further deterioration in the popularity of chemistry .
The author also underlines responsibility of chemists in bad opinion that people have about chemistry: they don't devote themselves to diffusion and popularization of their science.
In the last years The Italian Chemistry Society promoted several initiatives to improve chemistry image and knowledge. These initiatives consist in educational support for school (students and teachers), organization of games and competitions (es Chemistry Olympic games), divulgation through books and magazines.


COMMENTS ON THIS DOCUMENT
:
The document gives a valid interpretation about the reasons that made chemistry a 'bad science' in popular opinion. The role of chemists in changing this image is fundamental and The Italian Chemistry Society is dedicating itself to this objective.
NAME OF COMPILER
:
Dr.Maria Maddalena Carnasciali
NAME OF INSTITUTION
:
Dipartimento di Chimica e Chimica Industriale - University of Genoa