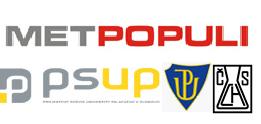 TITLE OF PRODUCT
:
METPOPULI (Methods of Science Popularization)
Metody popularizace vědy

NAME OF AUTHOR(S)
:
Project Service of the Palacky University in Olomouc
Palacky University in Olomouc
Czech Chemical Society
TYPE OF PRODUCT
:
Project financed by Ministry of Education Youth and Sports of the Czech Republic, methodology, webpage, conferences and final conference publication "New and modern tools of science popularization"
National level

LANGUAGE/S OF PRODUCT
:
Czech
DESCRIPTION OF CONTENTS
:
The goal of the project is to analyze current situation in science popularization, compare Czech and international experiences and finally to prepare methodology for the popularization of the science and research outcomes.
COMMENTS ON THIS DOCUMENT
:
Project Metpopuli represents very complex and versatile view on science popularization in the Czech Republic. Its webpage serves as a very good information source on the state of science popularization in the CR and internationally. In our view, popularization doesn´t mean the same as LLL, but successful popularization can invoke an interest among population and motivate for further education in respective fields of science. Therefore, popularization has its place in the LLL context.
NAME OF COMPILER
:
Petra Kinzlova
NAME OF INSTITUTION
:
Department of Science and Research, ICT Prague
ROLE
:
Member of CIAAU Research Team in ICT Prague