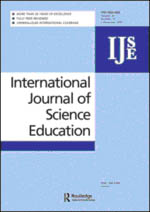 TITLE OF PRODUCT
:
Understanding of Photosynthesis: A Questionnaire For The Simultaneous Assessment of all Aspects
NAME OF AUTHOR(S)
:
Panagiota Marmaroti ; Dia Galanopoulou
(Department of Chemistry, University of Athens)

TYPE OF PRODUCT
:
Publication in the international Journal "International Journal of Science Education"

LANGUAGE/S OF PRODUCT
:
English

DESCRIPTION OF CONTENTS
:
The main findings of this study are the following: (a) pupils are not able to conceive photosynthesis as a chemical reaction and they do not appreciate the role of chlorophyll, (b) pupils' misunderstanding of the energy concept concerns the form of energy required as well as the notion of harnessing the sun's energy, (c) some pupils hold the misconception that plants receive all their nutrients from the environment, and (d) pupils confuse photosynthesis with respiration and also believe that respiration occurs when there is no photosynthesis. The included questionnaire could be used by teachers for the assessment of their pupils' understanding of each individual aspect of photosynthesis and of the simultaneous understanding of more than one aspect.
COMMENTS ON THIS DOCUMENT
:
Photosynthesis eminently merits its distinction as the most important biochemical process on earth. Consequently, its understanding is important for students developing functional chemical literacy skills that are needed by conscientious citizens in an increasingly technology-based society.
The paper also contains remarkable suggestions for teachers of secondary school.

NAME OF COMPILER
:
Dr. Katerina Salta



NAME OF INSTITUTION
:
T.E.I of Ionian Islands