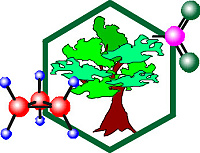 TITLE OF PRODUCT
:
Green and Useful Chemistry
Zelená a užitečná chemie

NAME OF AUTHOR(S)
:
Czech Chemical Society
TYPE OF PRODUCT
:
Webpage, national level
LANGUAGE/S OF PRODUCT
:
Czech
DESCRIPTION OF CONTENTS
:
Webpage of the Czech Chemical Society offers useful information and adresses with the aim to show that modern chemistry is "green" and useful and positive both for the environment and for the people as well. It wals to bring the information to those who are interested.
COMMENTS ON THIS DOCUMENT
:
For non-professionals, this webpage is rather passive source of information and does not contain materials that could be use for direct education of people. However, the webpage informs about the offered education courses of chemistry in various education institutions.
NAME OF COMPILER
:
Petra Kinzlova
NAME OF INSTITUTION
:
Department of Science and Research, ICT Prague
ROLE
:
Member of CIAAU Research Team in ICT Prague